Omega 3,6,9 60 softgels
60 Softgels. Helps Lower Pressure – Helps Lower Cholesterol Protects Against Heart Disease.
This product meets the essential needs of fatty acids required by the body, is a rich source of omega 3, 6 and 9, essential for the structure and functioning of cells.
71 in stock (can be backordered)
Description
Supplement Facts
Directions
Description
It is a rich source of Omega 3 (linolenic), 6 (linoleic acid) and 9 essential fatty acids (monounsaturated and polyunsaturated).
The benefits of Omega-3-6-9 include all the advantages of the three types of fatty acid. The amounts and ratios of each fatty acid are balanced to optimum levels of each. Take one Omega 3-6-9 is a good way to ensure you're getting the essential nutrients for good health.
Omega 3-6-9 is an all-inclusive formula is reinforced with 3 different types of omega fatty acids — Omega-3, Omega-6 and Omega-9 — the "good" fats important for heart and metabolic health.* Fatty acids, particularly Omega-3s, may help support joint and skin health.* Omega 3-6-9 is one of the best ways to support cardiovascular function.*
Purified to Eliminate Mercury
May reduce the risk of coronary heart disease*
Promotes heart and cardiovascular health*
Supports cellular and metabolic function*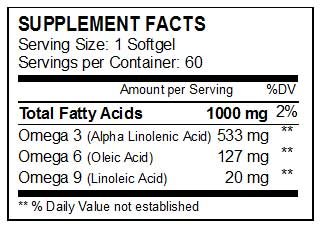 Other ingredients:
Flaxseed oil, Gelatin, Glycerin, water, other fatty acids, phytonutriens.
As a dietary supplement take one (1) to two (2) softgels daily with an 8 oz glass of water.
WARNING
Pregnant or lactating women, diabetics, hypoglycemic, and people with known medical conditions and/or taking drugs should consult with a licensed physician and/or pharmacist prior to taking dietary supplements. Keep out of reach of children. Do not use if seal under cap is broken or missing. Individual results may vary.
You may also like…
Omega 3,6,9 60 softgels