Creatine Monohydrate 90 cap
1,500 mg 90 Cap.
Creatine is perhaps the most popular supplement on the sports nutrition market.
372 in stock (can be backordered)
Description
Supplement Facts
Directions
Description
Creatine Monohydrate is normally generated within the kidney, liver and pancreas. It is a substance produced with the Methionine, L-Arginine and Glycine amino acids.
Creatine is a substance that is degraded by cooking meals, and it makes difficult to receive appropriate doses of Creatine from food.*
Enhances the ability of muscles to produce higher muscular force, especially during short bouts of maximal exercise*
Helps promote athletic performance*
Excellent supplemental choice for athletes and hardcore bodybuilders.
Each capsule contains HPLC Pure Creatine Monohydrate 1500 mg.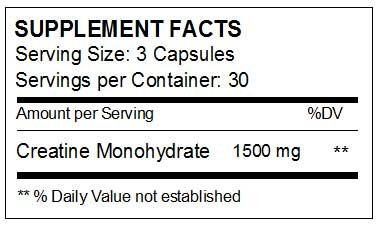 Other ingredients:
magnessium stearate, gelatin.
Adults - Take three (3) capsules daily  as a  dietary  supplement preferably before meals.
WARNING
Pregnant or lactating women, diabetics, hypoglycemic, and people with known medical conditions and/or taking drugs should consult with a licensed physician and/or pharmacist prior to taking dietary supplements. Keep out of reach of children. Do not use if seal under cap is broken or missing. Individual results may vary.